Providence Shredding Services
Providence Shredding Services will provide you with cost-effective shredding options for your office and home. We understand the importance of protecting your information and the need to handle your documents with the highest security measures possible. Shredding solutions meet all Rhode Island and federal privacy requirements including, FACTA and HIPAA.
About Providence Shredding Services
Providence Shredding Services offers several flexible shredding services to customers in Providence and the greater Rhode Island area. Wherever you are, we will help you meet your security needs for the amount of paperwork you need destroyed and shred it.
At Providence Shredding Services, our contractors deliver different shredding service options designed to exceed every client's shredding requirements at reasonable prices.
If you need to witness the shredding, a shredding truck can come and shred it right at your RI location. Otherwise, a truck is sent to you to pick up your documents, and shred them at a secure Providence facility.
Protect Your Company with These 5 Steps
A recent report found that the biggest risk of data breaches or theft comes from careless employees or consultants who don't properly secure the data they are entrusted with. Learn more about protecting your business in 5 steps by clicking here.
Working with a professional shredding service provider is the best way to shred it and ensure that your business remains compliant with privacy laws and your home remains protected from criminals.
For more information on Providence Shredding Services, simply give us a call at (401) 519-6693, or request a FREE quote today.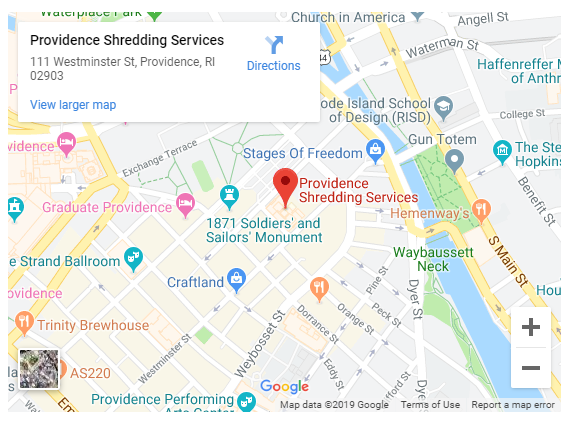 Get Free Quotes on Shredding in Providence
Shredding Companies in RI
We understand how unique each shredding job can be, which is why we offer a variety of service options to meet your shredding needs.
We also offer convenient scheduling of your recurring shredding needs, or our contractors can shred your documents as needed. You choose from:
Route Service – Daily, weekly, or monthly scheduled shredding service. Secure, locked shred consoles are provided for free.
Purge Service – For businesses that want annual, one-time, or occasional shredding. Costs are based on the volume of documents shredded.